The results from our latest survey with Public Sector Catering show the sector's continued progress towards serving less meat in public sector meals. Nearly 80% of those polled have decided to reduce meat content across menus, and 83% have increased beans and pulses in dishes by up to a fifth. 
"Improving the nation's health and our sustainability has never been more important. The food we serve in our hospitals, schools and other public institutions should contribute to health and sustainability – and be a pleasure too." says Prue Leith CBE, Restaurateur, celebrity chef, presenter and Vice President of the Sustainable Restaurant Association.
Over half (51%) said consumer demand for red meat has dropped by up to a fifth and 60% said there had been reductions in both pork and processed meat - in line with a number of reports highlighting that we all need to eat less meat and more beans, pulses and vegetables to address the climate and nature crises.
Simon Billing, Executive Director of Eating Better says:  "What we feed our children to nourish them while they learn, or to help patients recovering in hospital, really matters. The public sector must take the lead on eating better and our survey shows they're making good progress in serving climate and nature friendly food, with less red and processed meat and more veg, already on menus."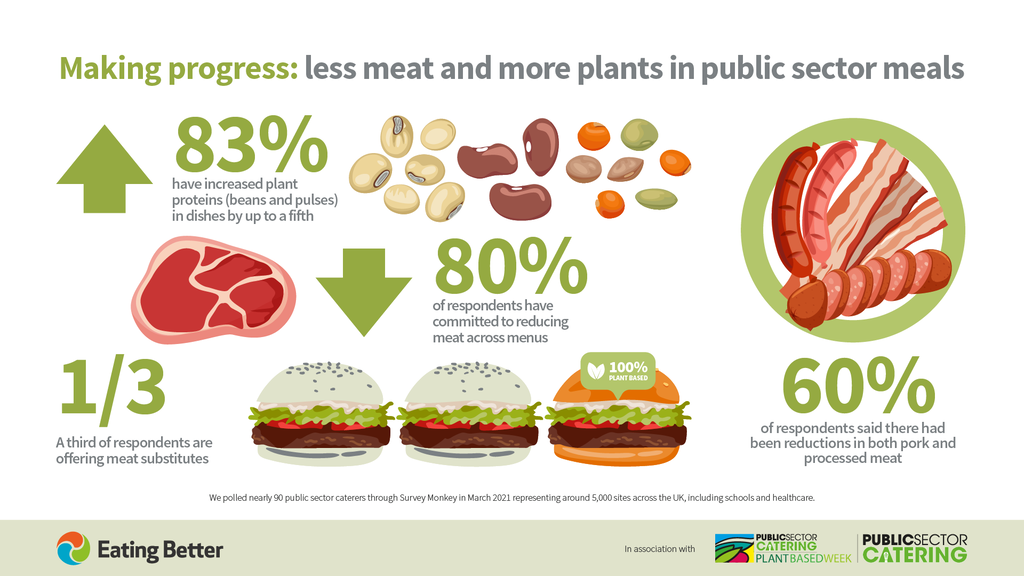 Dr Rupy Aujla, TV personality, chef and author of "The Doctor's Kitchen" says: "I'm delighted that public sector caterers are so focussed on promoting plant based meals. The nation's health and the planet will both benefit in the long term".

The sector is taking the necessary steps to reduce meat, but the popularity of chicken, being cheap and versatile, is growing with more than a fifth of caterers saying they are using more chicken in dishes. Substituting red meat for intensively reared chicken has costly environmental trade-offs, as outlined in our "We need to talk about chicken," report. Over half of those polled said demand for red meat has dropped by a fifth, while nearly two thirds have seen reductions in both pork and processed meat. 
What's driving change? 

The poll indicates that changing customer demand and concerns about climate change, nature loss, health and animal welfare are the main drivers for change. As guardians of the nation's health, the report shows caterers are listening to public attitudes and recognising the co-benefits of making the shift toward more sustainable menus.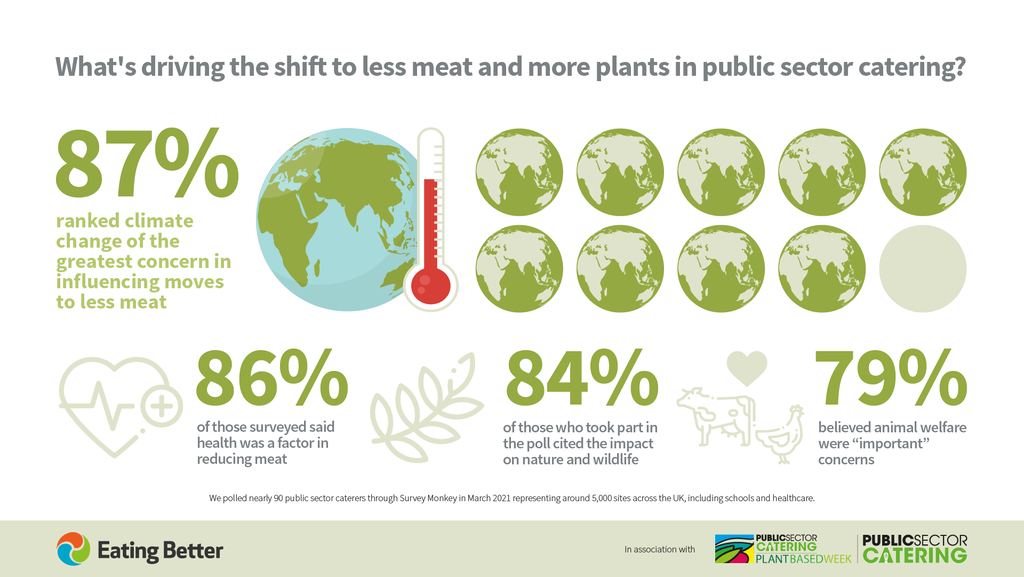 How are caters creating more sustainable menus?

Caterers are serving smaller portions of meat in dishes whilst still meeting strict nutritional standards for school and healthcare, 56% respondents are reducing or removing meat-based dishes from the menu cycle, 48% of those polled are introducing a meat-free day and just over half have redesigned menus to give meat-free dishes more prominence. 

"We have to accept that customers have changed their eating habits for the good and better." highlights Andy Jones, Chair of PSC100 group, "We are working closely with the industry to develop new recipes and menus which show our commitment to increasing plant-based meals while also offering choice for people, using less but better quality meat."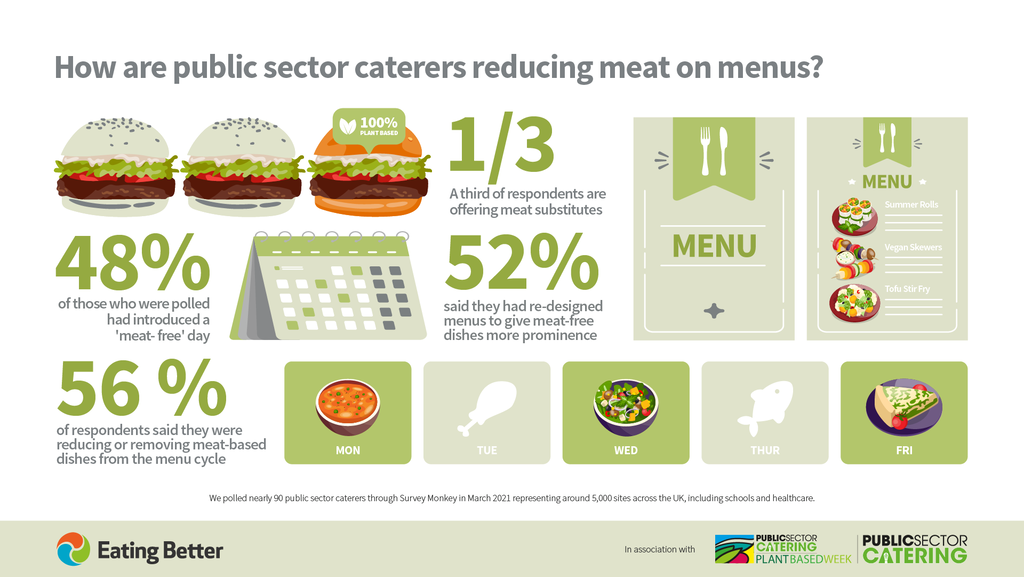 It's encouraging to see that many public sector caterers are committing to sourcing higher animal welfare produce, with more than half of those polled saying they would source better meat and dairy. Given the sector's purchasing power, there is huge potential for public sector catering to make sourcing decisions that create the right environment for people to eat "better" for their health and that of the planet's.
Read the full survey report here.
Learn more about Plant Based Week with Public Sector Catering here.