Tom Embury of the British Dietetic Association explains in this article how the health and sustainability properties of the food we eat go hand-in-hand. Tom talks to us about the role dietitians have in combining healthy eating messages and sustainable diet advice to support the people they work with to eat for both their health and the environment:
The British Dietetic Association, and our members, have for a long time appreciated the importance of environmental impact of food. Of course, it is one of the many factors that dietitians have to consider in their practice, alongside health, nutritional quality, culture, skills and much more.
However, it is fair to say it has been rising up the list of priorities. Of course, a dietitians first consideration is always health, but I think it is increasingly recognised that you can't have one without the other. We believe it is important that dietitians are leading discussion on how food behaviours. As we say in our 2017 policy statement, 'Health and sustainability can go hand in hand and there are a great many win-wins that can be achieved, and dietitians are in a strong position to combine healthy eating messages and sustainable diet advice, and support consumers to take action.'
The One Blue Dot Toolkit
Of course, saying this is easier than actually making it a reality. The evidence around food and sustainability is complex, and although dietitians are nutrition experts, they are not necessarily sustainability experts. That's why the BDA created our One Blue Dot toolkit.
The name takes its inspiration from Carl Sagan's famous description of the image above, taken of the Earth from a distance of over six billion kilometres. Talking of the picture of that 'blue dot', Sagan said 'To me, it underscores our responsibility to deal more kindly with one another, and to preserve and cherish the pale blue dot, the only home we've ever known.' For us, that was an inspiring and humbling idea which emphasises the importance of this work.
The toolkit is designed to summarise the key evidence on the topic, address key questions and, critically, provide practical tools and tips. It features meals swaps and infographics, as well as detailed information about nutritional considerations – always important for dietitians! We're always adding to it, working from feedback from members and others. We're delighted to say colleagues from around the world have taken an interest and are looking to learn what they can from our example.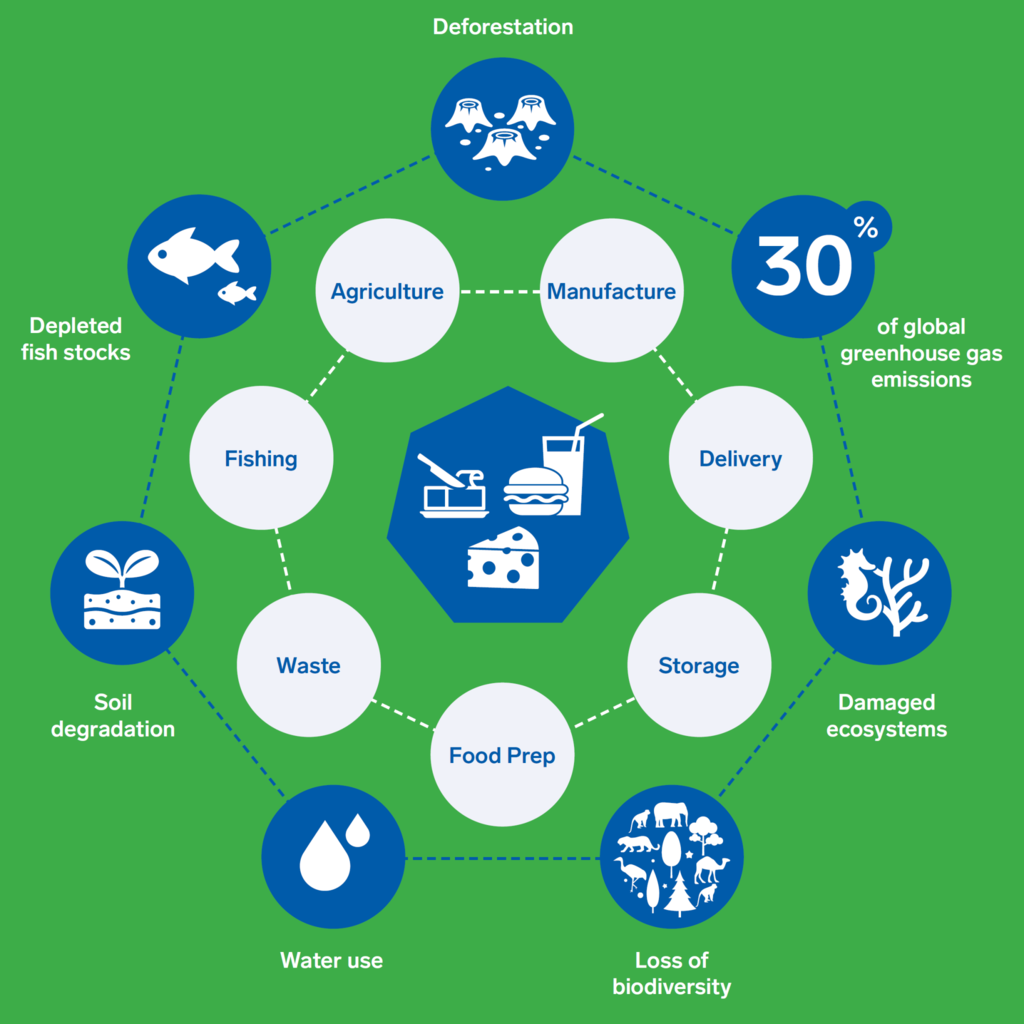 Recommendations
The actual recommendations we make give broad direction of travel – reducing red and processed meat, moderating dairy intake, reducing waste and increasing fruit and vegetable intake. It's a diet that if followed would not only significantly reduce environmental impact, it would lead to better health and wellbeing. More fibre, vitamins and minerals, reduced high fat, sugar and salt foods, and better portion control.
Critically, these recommendations are easily adaptable to different people's needs and situations. While we support and have a huge amount of respect for the work of EAT-Lancet and others, we've avoided being as prescriptive as they have for a range of reasons. Fundamentally, we do not believe that one set of dietary recommendations can be suitable for everyone. The skill of dietitians is in translating the evidence around sustainable diets into practical, personalised advice for individual. To be fair to EAT-Lancet, they recognise this in their work!

Learning from others
Eating Better's Better by half campaign reflects many of the things we have tried to achieve with One Blue Dot, even if the audiences are different. We may use some different language as well, but the essential ambition is the same, to change diets in a realistic way that takes account of the whole food system and the needs and desires of individuals. This is why we've been pleased to be able to include it as a key link within the toolkit.
The wider work of the Eating Better alliance is also really valuable – we always try to avoid reinventing the wheel, so are pleased to be able to link to other informed sources of information on sustainable food as part of our One Blue Dot work. The work of organisations such as Sustain, Love Food Hate Waste and Food Climate Research Network are great sources of information and inspiration.